I've had a good few days, first my bathroom is almost finished, hopefully I'll be able to post the full saga shortly.
Also my collection of shiny things has grown: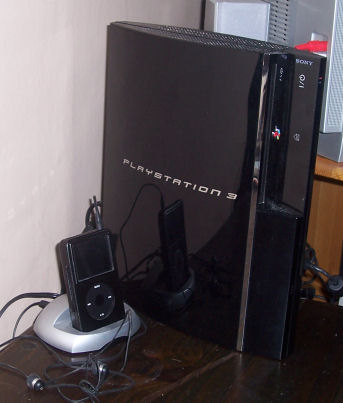 It's the
PlayStation 3
that's new, the iPod just crept into the photo because it was jealous. I've only played with it briefly but it's a pretty damn good machine, it's insanely easy to set up and it's now happily talking to the Internet and streaming stuff from my server via the magic of
TVersity
. It's the 60Gb model (off
eBay
) so it plays old PS2 games although I have to get a converter if I want to grab my old data off the old memory cards.
That's not all, over the weekend I won a raffle, netting me both a hamper of Mexican goodies and tasting menu for two at Le Trois Garcons. Spot on.
Finally I played a nice friendly game of poker at the weekend. I won. I won even when I was trying to lose.
It's been a good weekend.